How to set up your perfect workspace
Working from home? Go for a WFH win with our home tech cheat sheet.
29 Mar 2021
It's no surprise that more of us are working from home at the moment. And while we all dream of the perfect study or light-filled loft, the reality is that we have to make the space work for us – whether that's our section of a dining room table or a glammed up shed.
Fortunately, there's no need to remodel where you live just to make a space where you can be truly productive. All you need to do is get together the tech that can make working from home a success in a way that works for you. So we'll show you how – with tech to help you put a great shift in to accessories to make sure your posture isn't suffering. We'll even make some suggestions to get you started…
Laptop
First thing's first. That perfect workstation needs a powerful, reliable laptop that can serve as your main computer but is also mobile. That might be because you need to travel somewhere for work or just because you want to retreat to the end of the garden. You're working from home and it's sunny – no judgement. So, something powerful, but lightweight enough to carry around and enough battery life so you don't have to permanently be plugged in.
Any suggestions?
If flexibility is important, try the HP Pavilion x360 14" Intel® Core™ i5 2 in 1 laptop. It comes with 256 GB of ROM – plenty of space for all your documents. Plus, even room for a cheeky movie – since the x360 folds out into a fully functioning tablet! Great for entertainment or video calls. You've also got the powerful Intel® Core™ i5 keeping things smooth and connected. And then there's that crucial 8.5-hour battery life. So, if you do end up in the garden, its anti-glare display means you'll still be able to work, read or watch.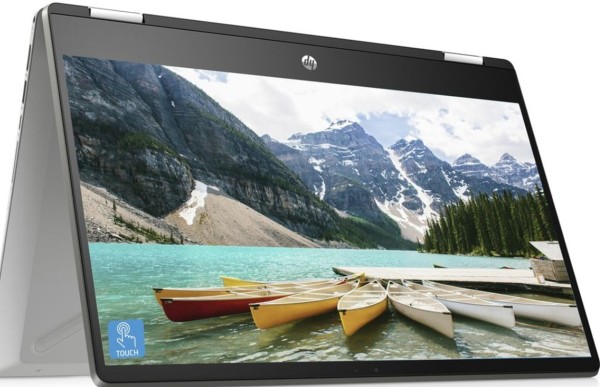 Mouse and keyboard
A good laptop is great, but using a track pad to go from spreadsheets to email isn't always the most efficient. Add a wireless, optical mouse to that and you'll feel the difference immediately. Plus, not much beats a mouse wheel when you're scrolling down a page.
Add a keyboard and you've got a much better workstation. While there's nothing wrong with typing on your laptop keyboard, having a wireless keyboard gives you more freedom to find the most comfortable position. This will prevent you from hunching over your laptop.
Laptop riser
And while we're getting your ergonomics sorted, a laptop riser is a big help. If you're not going for a separate monitor, adjusting your laptop screen height means you can find an eye level position that will help you keep a good posture. Laptop risers also help with your cable management – meaning everything is neat and tidy on your desk. Though we can't stop you from sticking post-it notes everywhere.
Monitor
If you have to work on several documents at once, there are times when one screen just doesn't cut it. Getting a decent sized monitor as a second screen means you can fit more on and get more done. So on one screen you have your emails and on another you have what you're working on.
Or maybe you just prefer to use one screen? With a large single screen, you can fit everything you need – without having to lean forward and peer at your screen. It makes all the difference when you've got to take down deadlines.
Any tips?
Check out the Samsung C34J791 Quad HD 34" Curved LED monitor. With its 34-inch screen, it's great for multitasking. It's super wide – which means it's great for laying out projects and having different apps open at once. And, at the end of the day, you've got an incredible quality screen both for immersive gaming and movies.
Office chair
The centre of any workstation set up is a good office chair. Why? Well, you're going to be spending loads of time in the same place. And if you think that kitchen stool seems like a good idea now, try it for a week and you might change your mind. The best idea is to go for something fully adjustable so that you find your perfect height. Plus, you want something that's going to give your proper support – looking after our backs is a must. Finally, a chair just for working means that the focus begins once you sit down.
Any tips?
Yes, try the ADX ACHAIR19 gaming chair. Wait. A gaming chair? Trust us on this. It doesn't matter if you've never played a video game in your life. The ADX ACHAIR19 is designed with comfort in mind for long gaming sessions. It's fully adjustable and the arms are padded. Plus, if you look at equivalent office chairs, you'll find that this gaming chair is a great deal.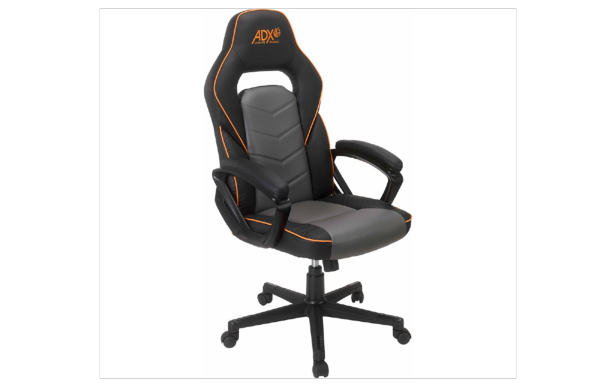 Wireless headset
As we're working remotely, video calls on Microsoft Teams, Skype or Zoom are becoming the standard. And while shouting at your laptop may do for a while, a decent wireless headset will give you a much better experience – and give the rest of the house some peace too. Wireless technology offers you a tangle free experience and let's you move around when you're on a call. Many headsets also offer the kind of sound quality and noise-cancelling tech that you'd find in a pair of premium headphones.
Smart lighting
The problem with a lot of household lighting is that it's really inconsistent. Think about the difference between your kitchen and your living room. Whether your workspace doesn't get great natural light or your household bulbs are a bit under powered – it's great to have a consistent light that works with you. And though there's nothing wrong with a standard lamp, you can do a bit better with a smart lamp. They light up your workspace and are easily customisable from your smartphone.
Any tips?
Philips Hue white & colour smart table lamp is easy to set and customise. You can pair it with Google Home or Amazon Alexa and set a schedule. So, it could bright and welcoming first thing in the morning and then dim down as your working day is done and you want to relax.
Smart assistant
There's no point setting up the perfect workspace without getting organised and that's what a good smart assistant is all about. Whether you need someone to remind you of an upcoming meeting or you just want to hook up to the rest of your smart home, getting a virtual assistant in on your working day is a great shout. So whether you want to answer the front door without getting up or schedule in a meeting, there's a tech solution for that.
Any tips?
Google's Nest Hub Max can do everything from make video calls to putting in leave reminders. Google Assistant allows you to stay connected and stay on top of your day. Plus you can control your smart home (including turning on the air conditioning or turning off the lights) with just your voice.
Set up your perfect workspace now!