TV Buying Guide
Choose your TV in six easy steps…
4K Ultra HD, 8K TVs, HDR, OLED, QLED – what does it all mean?
With so much innovation in screen technology, checking through the specification for the latest TV can feel overwhelming. That's why we've broken down the process of choosing the perfect screen for your home into six simple steps.
Whether you're purchasing your first TV for your new pad, looking to upgrade from your old HD TV, or simply after a second smaller screen for the bedroom or kitchen, we're on hand to help so you're not left scratching your head.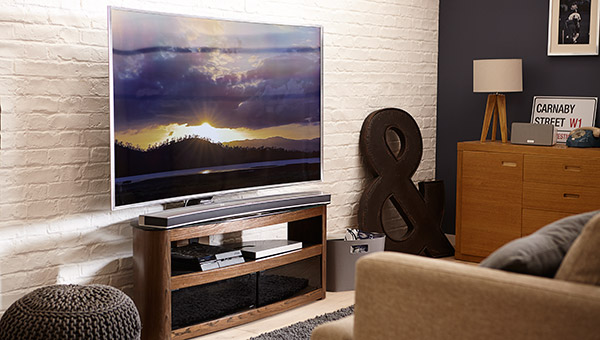 How to pick the right size TV for you
That 75" TV sure looks impressive on the shop floor, but will it fit into your space? Think about your layout, how close you'll be sitting to the screen, and how many people will be watching.
Which screen size should I go for?
A good place to start is by working out how far away you'll be sitting from the screen. You can use the handy diagram here as a good rule of thumb for screen size as it shows the most comfortable viewing distance.
Of course, the figures on the diagram are just suggestions, and the size of your TV is ultimately down to personal preference.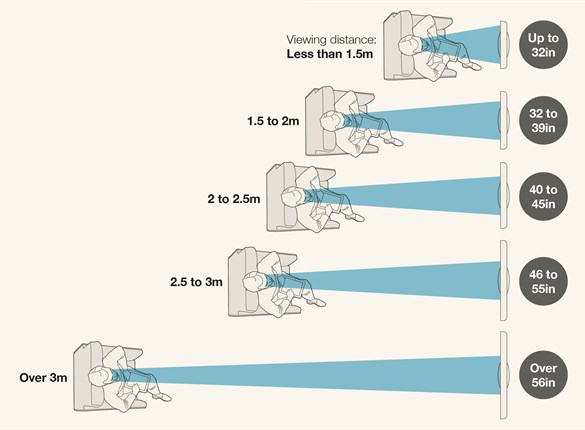 How has TV screen size evolved over the years?
An evolution in screen resolution has meant screens can be larger without showing pixels. They're also slimmer, with narrower bezels surrounding the screen. Some manufacturers even have bezel-less designs that are made to be so discreet they fit into your surroundings.
All this means you can fit more screen into the same space as you used to be able to. A modern 50" TV takes up roughly the same size as a 42" TV did back in 2008, so if it's been a while since you bought one, consider going up a few sizes.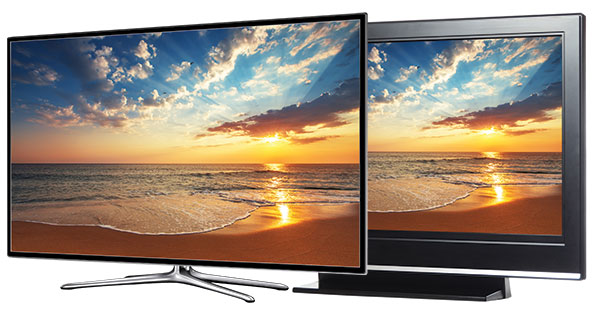 Why should I invest in a super-size screen?
There's more to purchasing a super-size screen than just keeping up with the Joneses. You'll find the best picture quality on larger screen TVs, with manufacturer's reserving premium OLED and QLED displays and added features for their super-size models.
Viewing angles are vastly improved, so everyone in the room can watch in comfort – great for family movie nights.
What screen size should I go for?
Over 75" TVs
60" – 74" TVs
50" – 59" TVs
43" – 49" TVs
32" – 49" TVs
Under 32" TV

Pick your screen technology
QLED, OLED, LED. They all sound similar, so what's the difference? It's an important consideration when purchasing your new TV – after all, what's the point in a large screen that doesn't do your entertainment justice?
What is OLED?
OLED stands for Organic Light Emitting Diodes. Individual pixels create their own light source to make up the picture, so they can turn themselves off completely to show the deepest blacks.
That's the science bit. What this means for you is a premium viewing experience with deeper blacks, more vibrant colours, greater contrast, and improved viewing angles.
OLED TVs also have a lower energy consumption than LED and the screens can be super-slim.
Shop all OLED TVs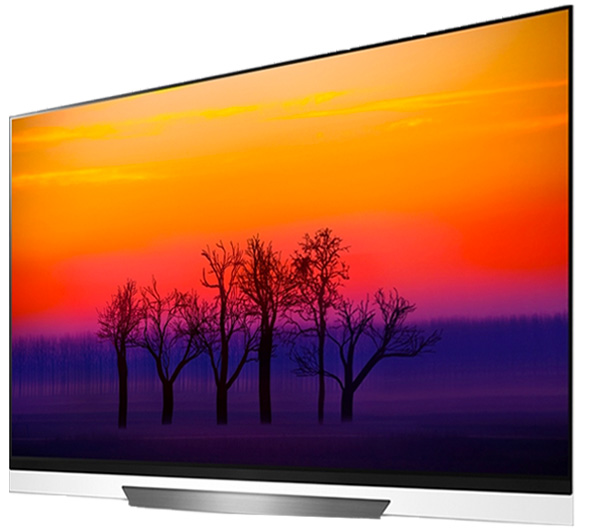 What is QLED?
QLED stands for Quantum Dot Light Emitting Diode (yes, the D has been dropped). However, the technology has developed beyond what is stands for. All QLED TVs have a quantum dot filter, a film of tiny particles which can be precisely controlled for their colour output.
The advantage of this is 100% colour volume – you get a wider, more diverse range of true-to-life colours, no matter what conditions you're viewing the screen in. You also get higher peak brightness, meaning HDR content looks great.
And now with 8K QLED TVs on the market, there's even better choice when shopping for a QLED TV. You can expect enhanced resolution – an impressive four times the resolution of 4K – with all your favourite content upscaled to 8K.
Shop all QLED TVs
Shop all QLED 8K TVs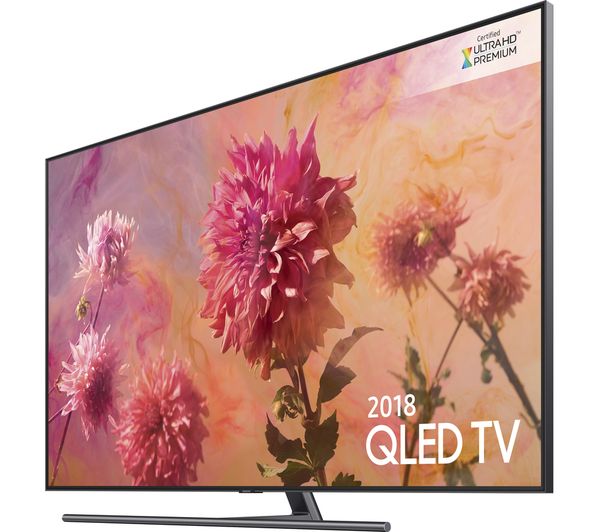 What is LED?
LED stands for Light Emitting Diodes. It works by using a backlight which is shone through an LCD panel to produce the individual pictures.
While not as premium as OLED or QLED, there's still plenty of reasons to consider an LED TV. Easier and cheaper to produce, you'll have the choice of a wider range of TVs. Manufacturers often apply their own technology for an improved picture, and look out for HDR which improves colour and contrast.
Shop all LED TV's

Consider picture quality
Think all 4K Ultra HDs are the same? Think again. Be confident that you're getting the best picture quality and true HDR support with a Certified Ultra HD Premium TV.

It's more than a TV. It's Smart too.
Extra media streamers and boxes can make clutter. So why not pick a TV with everything you want built-in? Smart TVs offer catch-up and on-demand streaming services like Netflix, Prime Video, and BBC iPlayer. The amount of 4K content is growing every day and even if your favourite show is not available in 4K, a 4K TV will upscale it and enhance the viewing experience.
What is a Smart TV?
A Smart TV connects to the internet using either your home WiFi or Ethernet. Similar to your smartphone, it has an on-board smart platform with a homepage that's usually customisable. This gives you access to a range of apps, such as catch-up, on-demand, social media, and gaming apps.
Shop all Smart TVs
What can I watch on my Smart TV?
Each TV manufacturer has a different selection of apps, so check they have what you want before you buy. You'll find popular apps such as BBC iPlayer, ITV Hub, Netflix, Prime Video, and YouTube on most TVs.
You're not just limited to entertainment apps either, many TVs will have a selection of social media, lifestyle, news, and gaming apps.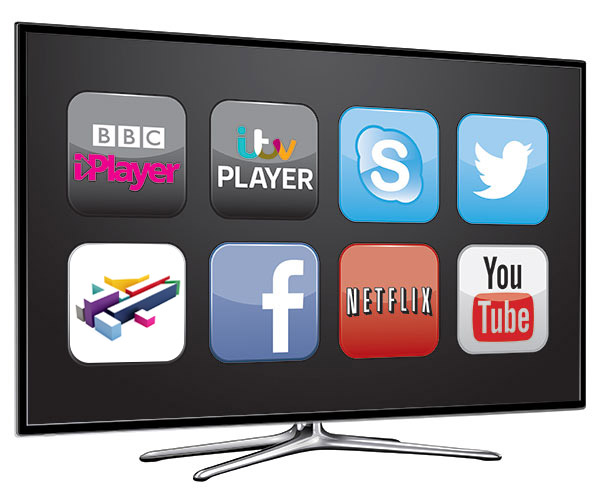 What are the benefits of 'voice control'?
If you're familiar with Google Assistant, Amazon Alexa, or Apple's Siri you'll find many TVs offer a similar voice control service. If you haven't used voice commands before, don't worry, it's user friendly and simple to use.
With voice control (usually via the remote) you can use commands to find what you want, navigate, change settings, and more. For example, you could ask your TV to "play Peppa Pig on Netflix", "change to sports mode", or "turn off when this program ends". It's a handy way to control your TV without navigating menus or using on-screen keyboards.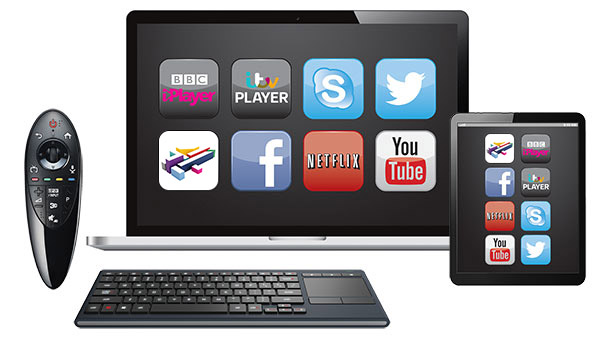 Fewer speakers, less wires, better sound
Brilliant visuals deserve brilliant audio. The right speaker can bring documentaries to life, ramp up the tension with a dramatic film score, and make concerts sound epic. So how do you choose the best sound to match your TV?
Do I need a sound system for my TV?
All televisions have their own built-in speakers to deliver sound, but unfortunately as TVs have become slimmer with thinner bezels there's less space for front-facing speakers. This means built-in speakers and specially designed surround sound systems can be worlds apart.
If you want deep bass, clear treble, and room-filling sound it's well worth investing in a sound bar, soundstage, or home cinema system.
Sound bar, soundstage or home cinema system?
As the name suggests, a sound bar is a long bar-shaped speaker that sits beneath your TV. Most sound bars come with a wireless subwoofer so you don't have to worry about trailing wires from your sound bar to sub (don't forget your sub will still need a power source). You can get compact and all-in-one sound bars too if you're limited on space.
A soundstage system is a flat speaker with more depth than a sound bar. It provides an all-in-one solution and generally includes a built-in subwoofer.
If you want deep bass, clear treble, and room-filling sound it's well worth investing in a sound bar, soundstage, or home cinema system.
Shop all sounbars, soundstage and home cinema systems
What is Dolby Atmos and how can this enhance my viewing experience?
You know that experience of sitting in the cinema - there's a roar coming from somewhere in the jungle before a helicopter flies overhead? The sound envelopes you, so you almost feel like you're there. Dolby Atmos brings all that breathtaking, immersive sound into your living room.
You can find Dolby Atmos in a variety of products, including TVs, sound bars, and home cinema systems. It's well worth considering if you're a film lover.
Shop all Dolby Atmos
What is an invisible cable?
You want to wall mount your TV but you don't want trailing cables on show? Before you start drilling holes in your wall, consider opting for an 'invisible' cable, a hard-to-see cable that can be run down the wall and along a skirting board without drawing attention.
Samsung's extra length near-invisible cable lets you place all your devices out of sight and away from the TV for a clean look.
We'll take care of everything
Now that you've found your perfect TV, there's a few things to consider. Do you want installation with your delivery? Are you covered if the worst happens? How can you pay for your new purchase?
Don't worry, we offer a range of services to make your new purchase hassle free. Come visit us in-store, or speak to a colleague online or over the phone.
Can you install and set up my new TV?
Don't stress, our experts are on hand to install your TV so you don't have to. We'll setup your new TV, connect your equipment, and give you a demo. You'll find a range of installation options during the checkout, including building your TV stand and connecting a home cinema system or sound bar.
What guarantee do I get with my TV?
You'll find a minimum guarantee of one year on all our TVs. For extra peace of mind, a five-year guarantee is included on selected premium TVs – just look out for the 5-year guarantee logo.
Your guarantee includes:
Protection against mechanical or electrical breakdown
We promise to fix it or replace it
Support from our experts over the phone
Are there payment options available when buying a new TV from Currys?
We get that a new TV is a large purchase, which is why we offer flexible credit options with Your Plan. Available on orders £99 and over, you can choose a payment term that suits you.
Shop online and apply for credit in the checkout, or get pre-approved online for an in-store purchase.