How to get Wi-Fi in the garden
The best tech to extend your online range…
22 Apr 2021
Planning on relaxing in the garden with a tablet or laptop? Unfortunately, you might have issues with Wi-Fi, as a lot of standard routers don't have the range to reach outside very far. Luckily, there's a solution that gives your Wi-Fi a better reach – we're talking range extenders. Here's what you need to know about them…
How do Wi-Fi range extenders work?
A Wi-Fi range extender is a clever device that repeats the wireless signal from your router, and pushes it out further to expand its coverage. Think of it as a bridge, taking the Wi-Fi from your router and sending it to areas where your signal was previously weak or non-existent. Like your garden, for example.
Do I need a Wi-Fi range extender?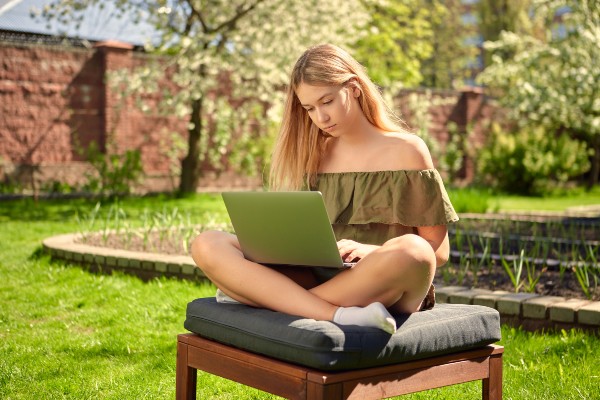 Before you go ahead and buy a Wi-Fi range extender, it's a good idea to make sure that you really need one. There one important thing you should try with your Wi-Fi router, to see if you can extend its range and push the signal out to that favourite spot in the garden.
If possible, place your existing Wi-Fi router right in the middle of your home. If you've currently got it tucked away in a far corner, this could be affecting its reach. To take advantage of the full 360° coverage of your Wi-Fi signal, place it in an open central area. If this doesn't give you the range boost you're looking for, you might want to think about getting a Wi-Fi range extender.

How do I install a Wi-Fi range extender?

Wi-Fi range extenders are always quick and easy to install. Plug it in, press a button on your router and extender, and connect to the internet.
The most important decision to make when you're setting it up is where to place it. You should plug it in where the signal of your home Wi-Fi router is strong, but not too close to the router itself. Otherwise, you won't push the signal out much further than your existing Wi-Fi router is capable of. Try and place it about halfway between your router and the place you want to reach, and avoid obstacles that might cause interference. These could be things like microwaves, thick concrete walls and large metal structures. Also, check out your Wi-Fi range extender's instruction leaflet – a lot of them have visual guides to help you find the perfect location.
How do I choose a Wi-Fi range extender?
The Tenda Nova MW5 system is a great value option, packed with features you'd usually only find in a much more expensive set-up. It gives you complete Wi-Fi coverage in your home and garden, and works with any broadband provider.
It consists of three separate units, and when they're properly spaced throughout your home they can expand Wi-Fi coverage to a whopping 3500 square feet of space. So, you'll get the same fast Wi-Fi in your living room or at the bottom of your garden and in the living room. You can also connect up to 60 devices, so the whole family can get on their laptops, tables, phones and games consoles. No lagging, no arguments over who's turn it is!
Check out all our Wi-Fi range extenders here.
Give your Wi-Fi coverage a boost!