How much data storage do I need at uni?
Heading to uni? Let's make some space.
16 Aug 2021

Your laptop's internal hard drive can only hold so much. Much like your brain after your fourth lecture in a row, overloading it can make it sluggish and unresponsive. Not to mention the risk of losing everything if your laptop's stolen or broken.
To keep your stuff safe, you're going to need an external hard drive to back it up onto. But which one to pick?
What sizes do external hard drives come in?
Storage space is measured in megabytes (MB), gigabytes (GB) and terabytes (TB). You can get your hands on hard drives offering anything from 500GB to 16TB of storage, depending on how much you'll need for your course.
How much space do I need?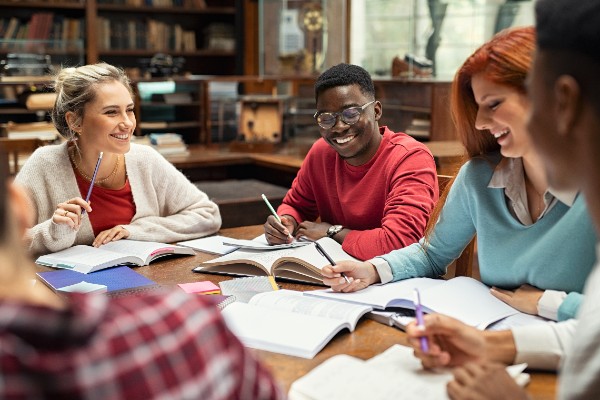 This depends on a few things. How big are the files you're likely to be saving? What programmes will you be using? How many projects do you expect to be working on?
If you're studying a subject that's largely about writing essays, you'll need less space than a design student regularly working on big visual projects in Adobe Illustrator, Premiere or Revit.
This is because basic text files don't take up that much space, photos are a bit larger, while music, video and 3D design files need the most storage. The below is a good rule of thumb…
500GB can hold: 8,330 hours of digital music / 160,000 digital photos / 500 hours of digital video / 125 DVD-quality movies
1TB can hold: 16,660 hours of digital music / 320,000 digital photos / 1,000 hours of digital video / 250 DVD-quality movies
[Source: Seagate]
Desktop or portable hard drive?
Do you prefer to knuckle down at home or in your bestie's flat? Are you more likely to be found hunched over a library desk or curled up working over a latte in town?
Whether you go for a desktop external drive or a portable hard drive will depend on how much you're likely to move around with your work.
Desktop external drives need to be plugged in to an external power source, but they tend to have more capacity than their portable counterparts. Plus, they typically have a more student-friendly price tag.
Try…
The Seagate Backup Plus external hard drive. It gives you ultra-fast transfers from your laptop thanks to USB 3.0. It's got 4TB capacity and you can schedule automatic backups for smart and secure file storing.
Portable hard drives
These guys are designed for life on the go. Light and slender, they're perfect for throwing in your bag - or even your pocket - before you head out.
They're powered by your laptop, so you can access your files wherever, whenever. Ideal for making last-minute changes to a presentation outside your lecture theatre.
They can be pricier than non-portable hard drives, but you should still be able to get a device offering 1TB without breaking the bank – like this Toshiba Canvio.
Or what about…
The WD My Passport, which offers 1TB of space and can move files at up to 5GB per second. There's also hardware encryption, security software and password protection – in case it falls into the wrong hands.
Lots of photos and creative projects? Make speed a priority
If you're a design student, or just have loads of Instagrammable photos, you'll want to prioritise something that transfers bigger files fast.
Two options to consider are hard drives with USB 3.0 or USB-C connectivity, as well as super-speedy SSD hard drives.
USB 3.0 can transfer data at 5 gigabits per second – more than 10 times faster than USB 2.0. And USB-C is twice as fast as a USB 3.0!
SSD on the other hand can transfer video in seconds. Known as solid state drives, they're up to 4x faster than traditional external hard drives for effortlessly backing up photos and videos. They're also extremely tough to crack because there are no moving parts.
Give it a go…
The 51g featherweight Samsung T5 external SSD fits easily in the palm of your hand – but don't be fooled. It can transfer a 3 GB video in just 20 seconds from your PC, has 500 GB capacity, and is compatible with multiple OS. It's the ultimate uni sidekick.
Think you're at risk of running out of space? Check out our range of external hard drives.